HCBF proudly announces the award of a $2 Million environmental grant to WattEV Holdings Inc for the opening of its first EV charging station for electric heavy-duty cargo trucks, located at the Port of Long Beach.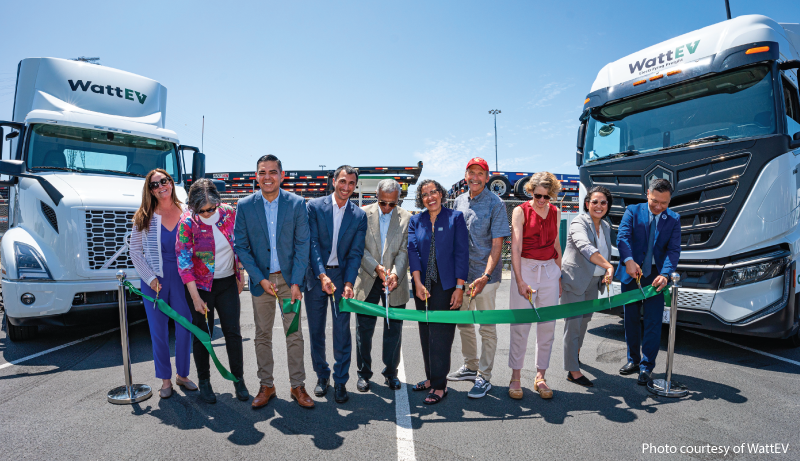 San Pedro, CA—August 23, 2023
Harbor Community Benefit Foundation (HCBF) HCBF was honored to provide key funding for site development and participate in the Grand Opening of WATTEV's zero-emission public charging station for electric heavy-duty trucks in late July. The charging site is located adjacent to the Pier-A Terminal at the Port of Long Beach, but welcomes trucks serving both ports (Long Beach and Los Angeles). The new charging depot supports WATTEV's growing efforts to electrify trucking operations in the ports of Long Beach and Los Angeles, which is the entry point for more than 40% of the nation's containerized imports.
The Pier A charging location is one of four depots designed by WattEV to serve Southern California. HCBF awarded WattEV $2 Million to accelerate development of the San Pedro Bay location; other funding was provided by WattEV ($5.5 million), supported by grants from HCBF ($2 million), CA Energy Commission ($750,000) and SoCal Edison (estimated at $750,000). Three other depots will be located in Gardena, San Bernardino, and north of Bakersfield. Together it will be the country's largest charging station of its kind for electric heavy-duty trucks.
About WattEV
WattEV's goal is to support routine charging of 12,000 heavy-duty electric trucks on California roads by the end of 2030, exceeding existing forecasts. More information about WattEV is available online at www.WattEV.com.
The AQMF Grant Program
The Air Quality Mitigation Fund (AQMF), administered by HCBF, awards grants for projects calculated to reduce Port-related air emissions resulting from the transport and handling of cargo, including but not limited to ships, harbor craft, trucks, locomotives, or cargo handling equipment. Click HERE for more information on HCBF's Air Quality Mitigation Fund (AQMF) program and to remain updated on reporting from WattEV's charging station.
HCBF Board Chair Ed Avol attended and spoke at the Grand Opening. In his brief comments, he underscored HCBF's enthusiasm and support for rapid electrification of cargo movement operations and the negative impacts on public and environmental health associated with continued reliance on burning of fossil fuels.
About HCBF
Harbor Community Benefit Foundation (HCBF) is a 501c3 non-profit dedicated to mitigating impacts from Port of Los Angeles-related activities on the neighboring communities of San Pedro and Wilmington, California. HCBF serves its communities through grant funding, technical assistance, independent research, and community engagement. Since its formation in 2011, HCBF has invested more than $10.3 million in 151 grants awarded to 76 groups.
For more information, please visit https://hcbf.org and follow us on LinkedIn.
Media Contact:
Dana P. Goland, HCBF Executive Director
(310) 997-7116
dana@hcbf.org