This feature is part of an HCBF series highlighting the important work our partners do with the grants they receive.
Sabrina Ho works with her organization, the Buddhist Tzu Chi Foundation (BCTF) to help others as a non profit organization. Although being an organization for over 30 years in the United States, nobody knew how to handle the COVID-19 pandemic when it hit.
"Most of us [initially didn't] know how to help," Ho, program manager for BCTF headquarters in San Dimas, said. "People in the community walked us through that." COVID-19 is the unprecedented beast of 2020. What this pandemic has revealed, however, is that often some groups are more affected than others. A lot of the struggles they must grapple with go beyond the virus itself.
When one family assisted by BTCF lost their mother and many members of the family contracted COVID-19, there were so many things they had to worry about, Ho said. What about the funeral service costs? What about mental health support? What about food?
"There's so much need, and the supplies are not enough," Ho said. She also has witnessed many other situations that have broken her heart. From a dire need for food and rent assistance, to the mental health effects of mass deaths and cases, low-income communities are in demand of help. The communities of Wilmington and San Pedro have been receiving support from BTCF for years through the assistance of the Tzu Chi local volunteers team as well as through much needed case service management and food donations. Because of the pandemic, the need for these services increased.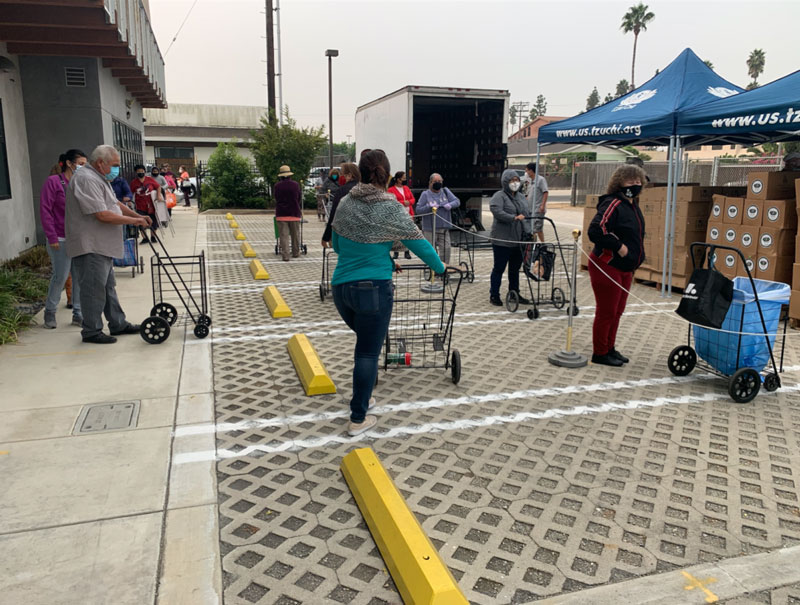 Data and news headlines indicate time and time again that COVID-19 has disproportionately affected communities of color. This is because historically, low-income communities of color have had less access to physical and mental healthcare, and less access to quality scientific information translated into languages they can understand. They have less access to green space, which has been shown to boost immune systems and reduce the chances of developing respiratory and cardiovascular illnesses.
Communities such as the neighborhoods of Wilmington and San Pedro have also been burdened with the effects of air pollution from freeway, industrial and port-related impacts. Map data from the Los Angeles Times shows the overlap between communities heavily affected by COVID-19 cases and communities dealing with the adverse effects of air pollution.
All of these factors amount to residents in these communities being more likely to have preexisting conditions such as asthma that greatly affect how they respond to COVID-19. This is a clear example of how environmental racism and injustice can amplify the effects of public health crises.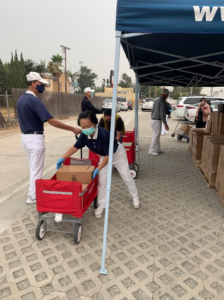 As a result of the pandemic, HCBF released $20,500 of discretionary COVID-19 funds to support the neighborhoods of San Pedro and Wilmington who were reeling over the iniquitous disadvantages that low-income communities faced. HCBF funds helped BTCF purchase Personal Protective Equipment for their volunteers and community members as well as provide much needed funding to their volunteer programs.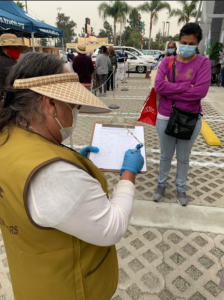 This funding has gone directly to grocery packages, cash assistance, the BTCF's Mobile Food Pantry Program, face masks for undocumented workers, and individualized assistance via case management. Hundreds of people are now being aided throughout this pandemic because of these funds and the tireless work of BCTF in Wilmington and San Pedro.
Ho began working at BTCF as a volunteer in 1994 while pursuing a degree in Health Administration. Providing free health services and charity services to a community were, and passion of hers. Even after long hours of providing services or doing service trips in Mexico, the glow of pure happiness on her face would show past her tiredness.
"It's hard to describe the feeling, unless you do it yourself, of helping others and having joy returned back to you," Ho said.
Volunteers like Ho and other organizations dedicated to public service have been pivotal to the COVID-19 response within port-impacted communities. Organizations such as Communities for a Better Environment, Providence Little Company of Mary Foundation, Rainbow Services, San Pedro YMCA and Wilmington Teen Center, all of which have been awarded grants from HCBF, are working to provide food, PPE, technology support, cleaning supplies and so much more in Wilmington and San Pedro.
Many hands go into the work of supporting others during this pandemic. As Ho has said: "It takes a village." Ho is grateful for the volunteers who have stepped up during this unpredictable pandemic, by following US Centers for Disease Control and Prevention (CDC) guidelines, to serve the community.
"Without the volunteers, without having support from the grant and [other] donations," Ho said,"we cannot be able to do that…to be able to empower our community and bring hope."